I'm still waiting for some of the swelling to go down from my face lift, so in the mean time I thought I would post some of my favorite links for Photoshop.
One of my favorite sites is the
Photoshop Cafe
. These are short, to the point, and well illustrated. There's a number of tutorials on this site. Here's some of my favorites that are especially useful for us cross-dressers:
Cast or Drop Shadow
Use of the Eyedropper
Reflections
Placing a person inside an object
Masking Difficult Images
Removing a Picture from a Background
Another good site is the
About.com Graphics Software Website
. There's tutorials and resources and other
Photoshop links
there.
A more accessible website is the
Pegaweb Tutorial
website by Daniel Piechnick.
One of the things I've been working on is designing business cards that I will be able to use while attending the
Southern Comfort Conference
. I want to use these cards when I meet my fellow sisters and brothers, so that we will be able to stay in touch with one another once the Conference is over.
Here's one of the first examples: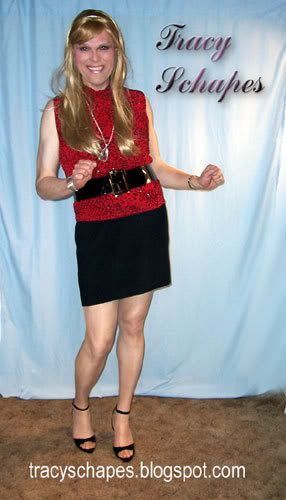 I used
photo-stock business cards from Staples
, and here is the link to a
business card template for Photoshop.
In fact I have been using these lately to introduce my femme side to friends and sales associates. I keep a few in my wallet. They have worked wonderfully.
I hope next time I'll be able to post some new photos.
Till next time...Tracy