Oh what a tangled web we weave,
When first we practise to deceive!

Sir Walter Scott, Marmion, Canto vi. Stanza 17.
Scottish author & novelist (1771 - 1832)
Photo enhancing software is now a fact of life. There's a famous video on YouTube called 'Model Evolution With Makeup & Photoshop':
So you can see with Photoshop you could probably turn Popeye into Gisele Bündchen. OK, I know what would be the point.
I'm just learning the basics of Photoshop now. The most important concept with either Adobe's Photoshop or Corel Paint Shop Pro is the idea that each picture is composed of different layers, much like a sandwich. Since you can edit each layer separately it's easy to move and adjust objects in the picture. I used this web-site to get the basic idea of how to use PhotoShop 7.0 Beginners' Guide to Adobe Photoshop
A fellow crossdresser friend Darla G turned me on to this web site: PhotoshopCAFE I especially liked the cast shadow tutorial.
I've also bought this book:

The Photoshop 7 Wow! Book (WOW!) by Jack Davis

This book is really loaded with instructions, quite dense. Photoshop is one of the most feature laden software packages, so I didn't want one of those "Dummies" or "Idiots" books that I usually grab. I don't need jokes, I need to learn the mad compositing skills!
So how far should I go with this technology?
It's very tempting to go all out with this software thinking I have to compete with Cosmopolitan and Vanity Fair Models. But that is not my goal.
I am determined to do my gender illusionment the old fashioned way, with makeup, clothing camouflage and just plain hard work. The photos on this blog have only been cropped and had the lighting adjusted. From time to time I have taken a good picture and since I'm using an inexpensive camera get dust hallos. I do edit these out. I have posted pictures elsewhere and one time I had a sore from a bug bite on my leg, this too was edited out. But, I can't see making changes to my face to be more feminine or making myself look skinner. My bottom line is: If I can't create the illusion in person, I won't do it. I do plan to go out of my house some day, and meet the people that have seen me on my blog and in other pictures. The last thing I want them to say is, "Who are you, and what did you do with Tracy"?
It's a good tool that can be abused. One use may be to manipulate things to see what would make me look better. A sort of virtual plastic surgery. Now these types of pictures could be very useful. But these would be working photos, and only I would see them (or my plastic surgeon!).
One cool thing I do want to do is since I am trapped in my man-cave, er, Tracy's Workshop©, is to place my picture in different locals. The gender illusionist that does this really well is Grae Phillips. She not only does the female models but also models as her male self. Sometimes is the same picture!
Here's some of my first attempts:
Tracy At The Beach!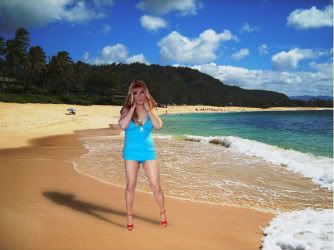 Four Bad News School Girls
This is a new one. I'll have to explain who you're seeing here. This is me using four different female foam latex masks. The female latex mask thing needs a post all it's own, but in the meantime, enjoy:
Oh, and I did use Photoshop one time for a funny picture of my mascara running, but it was blatantly obvious and I even said it was done with Photoshop. This is what it looked like:
In posting this for everyone to see I hope I can keep to my promise and not go down that slippery slope.