This is me dancing: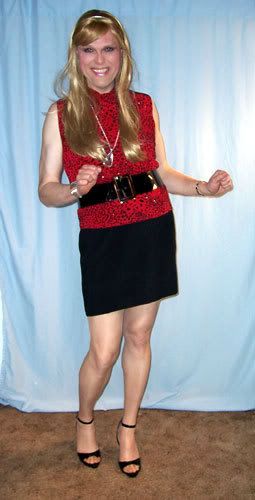 I am so happy to be able to go to the
18th Annual Southern Comfort Conference
in Atlanta Georgia this fall. It's from September 30 through October 5, at the
Crowne Plaza Hotel Atlanta Perimeter at Ravinia.
It's a five day symposium about all things transgendered.
Last year they had four sessions a day for three days with about nine different topics per session to choose from. There will be topics on how to look and sound more feminine. These will include classes like; tips and tricks with makeup, voice coaching, and how dress for your body type. They will also have classes that are practical, such as how to protect yourself, political activism, and how to bring transgender awareness to your place of business. I'm sure they will have vendor booths of all kinds of products and services. They may even have a costume contest!
They will also be bringing back the job fair this year. So this will be the 2nd Annual Transgender Career Expo 2008 and will be held on Friday, October 3rd.
There will be excursions and dinners that will be on an off-site from the hotel. And I'm sure I will meet a lot of my friends and readers for the first time in person!
Meeting my fellow crossdressers, that I have met on the Internet, is what I'm looking forward to the most. They have been the kindest and most supportive people I have ever met. Yes, even more so than my shrink! I'm really looking forward to sharing time with them and also meeting new friends.
And even though my wife does not read my blog nor sees me dressed, she is tolerant of my crossdressing and has allowed me to go on this excursion. So I thank you dear, from the bottom of my heart.
So, all the things I have been talking about on this blog, about improving myself and being a "Gender Illusionist" will have a target of sorts. I'm using this event as inspiration to finish these things that I have started.
Love, Tracy